South Jersey Gas Awards ULS its 2019 Contractor Safety Award
Utility Line Services has been awarded the 2019 Ramadian "Dink" MacNeill Contractor Safety Award, by South Jersey Gas. This is the second consecutive year that ULS has been awarded this distinguished award.
South Jersey Gas presents this award annually to the Contractor that meets a criterion which includes Production, Damages, Safety, Quality Control and Training
ULS has the distinguished honor of being the only contractor to date to receive the award two consecutive years.
A Positive Safety Culture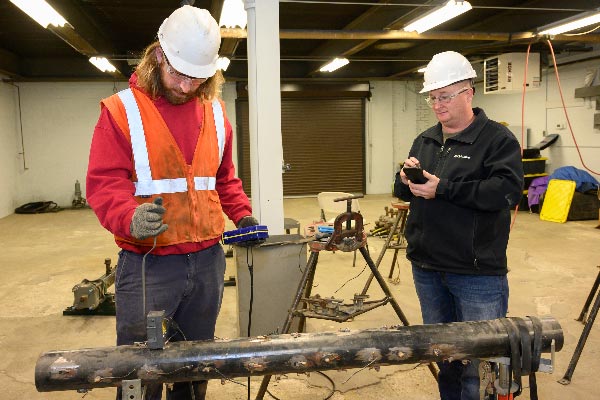 ULS has a QMS (Quality Management System) program that is ISO compliant and addresses every aspect of the company's duties. Our safety program informs every employee that they have the responsibility to prevent accidents and injuries by observing established working rules, by following the directions of supervisors, by practicing the safety rules of ULS and by providing ideas on how our safety efforts might be further strengthened. The program is audited and amended as needed 4 times per year.
ULS management recognizes its responsibility to provide healthful and safe working conditions, safe working rules based upon experience and safety knowledge and competent work direction. ULS and its employees have the responsibility to comply with all federal, state, and local regulations related to safety and health programs. Management meets once every week to discuss safety in all areas and utilize our KPI reports (Safety Culture Assessments) to better understand what is happening in the field and to better address any issues that need attention. Incentives / rewards are given in the form of gift cards for "instant rewarding" when an employee is recognized for outstanding safety performance. ULS performs Daily Job Briefs (JHA's) that include hazard recognition for the tasks they will be performing that day and additional briefs as needed if the tasks change.
ULS is also aware of API RP 1173, this recommended practice (RP) establishes a pipeline safety management systems (PSMS) framework for organizations that operate hazardous liquids and gas pipelines jurisdictional to the US Department of Transportation. Operators of other pipelines may find this document applicable in operating to their systems. This RP provides pipeline operators with safety management system requirements that when applied provide a framework to reveal and manage risk, promote a learning environment, and continuously improve pipeline safety and integrity. At the foundation of a PSMS is the operator's existing pipeline safety system, including the operator's pipeline safety processes and procedures. This RP provides a comprehensive framework and defines the elements needed to identify and address safety for a pipeline's life cycle. These safety management system requirements identify what is to be done, and leaves the details associated with implementation and maintenance of the requirements to the individual pipeline operators. ULS complies with all of our customers' requirements as mandated by contract.
Safety in action
We follow protocols and procedures.
We recognize and correct potential hazards.
We speak up and stop work if safety is compromised.
We take responsibility for our own safety and for those around us.